Promesa Health® helps injured workers return to work quickly, safely, and cost effectively.
Best Practices, Best Results
Appropriate & Necessary Treatment
Our Utilization Management team uses evidence-based medicine to ensure injured workers receive appropriate care, at the appropriate level and time. Unnecessary or ineffective treatments do not help heal injured workers, but they do increase the cost of claims.
URAC Accredited
Our Utilization Management group has accreditation from URAC, an independent, nonprofit organization that promotes healthcare quality and management efficiency through its accreditation, education, and measurement programs. Using evidence-based medical guidelines, Utilization Management evaluates requested medical treatments to ensure they are necessary and appropriate.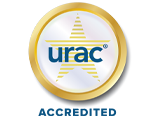 Quicker Path to Closure
Nearly all our competitors outsource Utilization Management services to vendors whose interests may not be aligned with the insured. This can produce outcomes that delay claim closures and increase claim costs. We provide these services in-house and have one of the best claim closure rates in the nation.
Rigorous Cost Control
Promesa Health is one of the few companies in the U.S. to use an internally developed proprietary system to review and adjust medical bills. Unlike most competitors, which outsource medical bill review or use third-party administrators disconnected from bottom-line results, Promesa Health is incentivized to efficiently and thoroughly evaluate medical bills, and to pass savings on to our clients.
Evaluating Providers for Excellence
Knowledge Counts
Preferred providers in our medical networks must pass Promesa Health's rigorous evaluations and screenings. We review credentials, experience, medical case outcomes, and best approach options to help injured workers get back on the job. We find small clinics with friendly, professional staff and clean, up-to-date facilities.
Experience Matters
Promesa Health regularly evaluates providers and researches the best medical services available in your area. Our goal is to find physicians who have extensive medical and administrative experience in treating workplace injuries and illnesses. These doctors have a proven history of creating a better connection with injured workers and effectively coordinating with us.
Ongoing Provider Support
Ongoing resources for our medical providers include web-based programs, quarterly newsletters, and access to our in-house medical staff.
Getting Injured Workers Back on Track
Focused on Results
The REVIVE® program offers injured workers the resources they need to help them resume daily routines and other activities that their workplace injury may have affected. Workers who go through the 10-week REVIVE® program tend to show greater improvement than those who do not have access to these resources.
Individualized Support
The REVIVE® program provides patients with:
A weekly call with a REVIVE Coach who helps set goals, answer questions, and provides support throughout the process;

Exercises to help increase well-being;

Pain management techniques;

A guide and calendar tool to track weekly progress.
Promesa Health Resources
---
Fill a Prescription
To fill a prescription or find a pharmacy in your region call us at +1 (877) 234-4420, Option 5. You can also use our Pharmacy Finder to locate one nearest you.
---
Find a Doctor
Locate an appropriate provider in Arkansas.
Locate an appropriate provider in California.
---
Utilization Review Plans
View Arkansas Utilization Review Plan.
View California Utilization Review Plan.
---
WV NADAC Quarterly Report
View the West Virginia Pharmacy Benefit Manager quarterly report.
---
California Medical Provider Network
To obtain any notification regarding the Medical Provider Network (MPN) that is required to be distributed to employees, including the Complete Written MPN Employee Notification in English and Spanish, request a copy from the MPN Contact. The MPN Contact can be reached at +1 (877) 234-4420, Option 1 or by email at contactteam@auw.com.
Should you need assistance locating an available MPN physician or scheduling a medical appointment, and are not able to reach your claims adjuster, Medical Access Assistants are available to help you Monday through Saturday, 7 a.m. to 8 p.m. Pacific Time, by phone at +1 (877) 234-4420, Option 1 or by fax +1 (402) 951-6037. You may also email your appointment request to contactteam@auw.com.
Promesa Health FAQs
Are prescription drugs and medications covered under workers' compensation coverage?
Yes. Workers' compensation coverage provides prescribed medications for treatment. Our Pharmacy Benefits program provides a friendly, hassle-free approach with a free home delivery service in many states. Our in-house fulfillment reduces cost and provides greater control over potential abuse.
What is medical bill review?
Medical bill review is an audit of medical bills and corresponding documentation to ensure proper coding and reimbursement. The technical review ensures the amount recommended for a procedure does not exceed the maximum allowable payment established by the regulations and guidelines. Promesa Health utilizes hands-on documentation review performed by professional coders certified through the American Health Information Management Association (AHIMA) and/or the American Academy of Professional Coders (AAPC).
What is a preferred provider network?
A network of physicians that meet our strict model for care. The purpose of a preferred provider network is to deliver timely, cost-effective, appropriate medical care to injured workers. Promesa Health has collaborated with board-certified physicians that specialize in the treatment of occupational injuries and promote a safe, medically appropriate return to work. Medical treatment within our preferred provider network(s) offers the opportunity to reduce the overall cost of workers' compensation claims, without compromising care.
What is utilization review?
Utilization review is the critical review of health care services and procedures to determine medical necessity and appropriate treatment, related to an industrial injury. Medical professionals provide reviews based on evidence-based guidelines, specific to state regulations. Our Utilization Management program establishes an appropriate treatment plan that allows for a faster recovery and return to work for the injured workers, which saves our customers money and gets their employees back on the job.
How do you combat the disability mindset?
It is critical to recognize signs in injured workers that have the potential for delayed recovery and return to work, and provide an early intervention. Certain factors can determine if an injured worker is at risk and these factors are linked to the individual's physical, psychological, or psychosocial history. We educate employers, injured workers, and physicians to understand that an early return to work provides a sense of job security, can boost employee morale, and helps shift an injured worker's mental focus from "disability" to "ability". Promesa Health also offers the REVIVE Program, a return-to-function program for injured workers. REVIVE was created to help injured workers regain control over pain, increase activity, and improve quality of life.
How do you combat opioid abuse?
The knowledge surrounding opioid use is growing and new techniques to help prevent opioid addiction are constantly evolving. The primary tool we use to combat opioid abuse is education, for both the patient and prescriber. Our teams work closely together to ensure the best care for injured workers during all phases of their treatment.
Contact Us
To Report a Claim:
Email: newclaim@auw.com
Toll-free Phone: (877) 234-4420
Fax: (402) 951-6037
Requests for Authorization should be submitted to: 
Email: um@auw.com
Fax: (866) 234-4416